Full Time
Internship
Part Time
$600 USD / Week
April 14, 2023
Job Qualifications:

Qualifications:

Required

Members must be a U.S. citizen or Permanent Resident, as required by U.S. government contractsWilling and able to represent ACE and the partner organization in a professional, positive, and enthusiastic manner.
Ability to be both self-directed/work alone, and be a positive, contributing member of a group.
A valid driver's license and an insurable driving record (documentation to be provided upon request).
Personal vehicle for non-work related tasks
Willing to undergo and must pass the required three-part criminal history check.
Ability to perform the essential duties of the position with or without reasonable accommodation.
ACE Members will need to complete bi-weekly timesheets, beginning of term feedback forms, end of term evaluations and for longer terms, a mid-term evaluation.
The Member may not participate in any prohibited activities as listed in the Member Service Agreement or as defined by AmeriCorps.
To learn more about eligibility requirements, please visit our website https://www.usaconservation.org/epic/#eligibility-requirements.
Applicants should have experience and strong knowledge of archeological field methods and prehistorical archeology, and a working knowledge of digital photography. Knowledge of plantation archeology is a plus.

Preferred:

Experience working in a museum setting and using museum databases
Experience and knowledge of archeological field methods.
Experience and knowledge of analyzing and identifying historic and prehistoric archeological objects.

How to Apply:

To Apply: Please submit your resume, a cover letter demonstrating your interest and experience, and contact information for three professional/academic references to the online application page for this position here: https://usaconservation.applicantpool.com/jobs/. Early consideration will be given as resumes are received. This position may close at any time. If you have any questions regarding this position please feel free to contact ACE EPIC Member Coordinator, Maya Opara-Nadi, at mopara-nadi@usaconservation.org.

EEO: American Conservation Experience provides equal employment opportunities (EEO) to all employees and applicants for employment without regard to race, color, religion, sex, national origin, age, disability or genetics. In addition to federal law requirements, American Conservation Experience complies with applicable state and local laws governing non-discrimination in employment in every location in which the company has facilities.

Physical Demands / Work Environment: Physical Demands, Work Environment and Working Conditions: Physical Demands: Requires frequent sitting, standing, walking, carrying, using hands to handle or feel, reaching with hands and arms, talking and hearing. Manual dexterity required for use of various tools, neatly labeling objects, computer keyboard/mouse and other office equipment. Required to stoop, kneel, climb stairs, and/or crouch. Vision Requirements: Requires close, distance, peripheral and depth perception vision as well as the ability to focus. Weight Lifted or Force Exerted: Frequently moves up to [25] lbs., ability to move up to 40 pounds. Environmental: The majority of the work will be performed inside climate-controlled buildings, although occasional work may be required outside in extremely high temperatures and humidity. Noise Environment: Moderate noise such as in a business office with equipment and light traffic. Travel: This position does not require unique travel. Environmental Conditions/Hazards: The ACE member(s) may encounter environmental conditions/hazards including extreme heat or cold, swamp or wetland conditions, biting insects, and potentially dangerous wildlife. The Member will also be using lacquer to label objects. The member is expected to conduct duties in a safe and orderly manner so as not to endanger self, fellow staff/members or resources. Vehicle and Equipment Use/Safety:If a vehicle is required for the accomplishment of the duties, one will be provided by the NPS or ACE. Any tools required for the accomplishment of the duties will be provided by the NPS. Use of personal protective equipment (PPE), typically provided by the NPS, will be mandatory for any activity that requires it. Strict adherence to NPS and ACE equipment training, certification and safety protocols is required.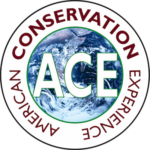 Website American Conservation Experience
Summary:
American Conservation Experience, a nonprofit Conservation Corps, in partnership with the National Park Service and Timucuan Ecological and Historic Preserve (TIMU) is seeking ONE Archeology Member to assist with museum collection, including cataloging archeological collections, conducting environmental monitoring and housekeeping, and creating new temporary exhibits.
For more information about ACE, please visit: www.usaconservation.org.
Start Date: Ideally April or May 2023 (flexibility available for the right candidate)
Estimated End Date: 21 weeks after start date
*a 21-week minimum commitment is required *
Please note: This position is eligible to be full time or part time. This position is funded for 21 weeks full time (~40hrs per week). If individuals serve part time, the position may be extended depending on the number of hours worked each week.
Location Details/Description: Timucuan Ecological and Historic Preserve (TIMU) – Jacksonville, Florida
Jacksonville is a large metropolitan area of almost one million people but public transportation does not come to the park. The park is within two miles of a grocery store, but most other amenities are not within walking or biking distance. A personal vehicle is required for getting to the park and for non-work related activities.
TIMU is a 46,000-acre area with individual park sites to visit. Each park site is unique for an aspect of natural or cultural history. The interaction between nature and humans is evident from the spoil islands to the altered wetlands, from the shell middens of the Timucua to the tabby structures of Kingsley Plantation, and from the boat docks of neighboring subdivisions to the introduction of exotic animals and plants. At TIMU you can hear the life stories of the native people who survived in Florida's environment prior to European contact. Learn of the clash of cultures that occurred as nations converged in the New World, from Europeans attempts at colonization to the struggles of enslaved African peoples. Experience more modern trends such as the growing tourism industry and present community efforts to sustain modern life while preserving our local environment and its history.
For more information about TIMU, please visit www.nps.gov/timu
Position Overview: The ACE Member will catalog archeological museum objects recovered from university field school projects held at the park. The collections contain primarily prehistoric objects, including vessel fragments and animal bones, but include some historic objects as well. The cataloging process consists of cleaning, analyzing, labeling with ink, photographing, and re-housing objects in new plastic bags and boxes and entering data into the Interior Collection Management System (ICMS).
The Member will also assist TIMU Museum Curator with additional tasks such as digital photography, downloading dataloggers, performing housekeeping in storage areas and historic houses, answering research requests, and creating one or two new temporary exhibits.
The collections were recovered through archeological methods from prehistoric and Spanish mission sites within the preserve. The project will make information on thousands of archeological objects available to Timucuan Preserve staff and the general public. Photos and catalog data will be put on the park's website and used in interpretive programs, and objects will be used in temporary exhibits at Kingsley Plantation. Having the collection cataloged will make it accessible to NPS staff and researchers.
This individual placement is meant to facilitate professional development and promotes exposure to land management agencies and networking with professionals. This could include gaining experience in different conservation fields and shadowing different work groups.
Schedule: Hours can be part-time or full-time, between M-F, 8am-4:30pm.
Position Benefits
Living Allowance: The ACE Member may work part-time or full-time depending on their availability. They will receive a living allowance of $300-$600/week (or equivalent to $15/hr) depending on their part-time or full time status. The living allowance is intended to offset the costs of food and incidental expenses, dispersed bi-weekly.
AmeriCorps Education Award Program: This position may be eligible for an 675-hour AmeriCorps Education Award while serving under the EAP 2022/23 grant year program, valued up to $2,474.27 upon successful completion of a complete service term and 675 hours.
Loan Forbearance: AmeriCorps members may also be eligible for federal loan forbearance. Additional enrollment steps are required.
Qualifying Child Care Coverage: AmeriCorps members may also be eligible for qualifying child care coverage. Additional enrollment steps are required.
Public Land Corps Hiring Authority: Members serving under this agreement may be eligible for a federal hiring authority upon completion of their term of service. PLC projects also include specific eligibility requirements such as age and citizenship. Please contact ACE staff with questions about eligibility, or view general information online
https://www.usaconservation.org/epic/#eligibility-requirements.
Housing: Housing is the responsibility of the member and not provided by ACE or NPS.
Provided Training/Orientation: ACE members will receive position specific training and an orientation outlining ACE policies and procedures, clear guidance on prohibited activities, and networks for support.
NCPE Internships: Eligibility & How to Apply

Benefits

All NCPE interns received an hourly stipend, the rate is listed at each position description. Additionally, interns receive paid time off (PTO), paid Federal holidays if working full-time, and access to NCPE's Employee Assistance Program (EAP) for career and personal counseling, coaching, and referrals. Project sites may also offer a housing allowance and/or commuting stipend; this information is also listed in the description or offered during the interview.

As an organization operating under Public Land Corps Act (PLC) authority, many NCPE positions qualify the intern for Federal Hiring Preference if (1) they complete a minimum of 640 hours at one or more qualifying conservation project(s); (2) are between the ages of 16 and 30 years (35 if a veteran); and (3) apply for a Federal position at USAJOBS with PLC noted in the announcement within two years of completing the internship. Find out more about this hiring preference during the interview or contact manager@preservenet.org for details.

Eligibility

To be eligible, applicants must be currently enrolled in a degree-seeking academic program or recently graduated (within the past 12 months) and be a U.S. Citizen or permanent resident. Interns are not eligible to work more than 1200 hours total in the program; previous interns must stay within this overall limit. The length of an internship can vary from 10 to 30 weeks if full time (40 hours per week) or longer if on a part-time schedule. If selected, the exact starting date will be determined by you and the NPS supervisor. The stipend rate is $17.00 per hour unless otherwise listed.

The successful candidate is responsible for finding and paying for travel to and housing at the internship location; some exceptions apply. The supervising office may be able to assist in locating housing but it is ultimately up to the individual accepting the internship to find accommodation.

The National Council requires all interns working in-person at Federal facilities and/or with Federal employees receive the Covid-19 vaccination. Please be advised that you may also be required to wear a mask, depending on the protocols adopted by your work site. Also be aware that, due to Government-wide security requirements, a background check will be required if you are selected for a position. This will include providing information about recent housing and employment history. The position supervisor will have more information about these requirements and procedures at the time of hiring. You may direct any questions to NCPE's Internship Program Director, Julee Johnson, at manager@preservenet.org.

Please note that interns are not NCPE or NPS employees. Stipends are academic awards and taxes are not withheld, nor are social security contributions made on your behalf. These funds may be taxable, however, so consult a tax preparation professional if you have questions.

How to Apply

You may review NCPE's internship opportunities during the Summer and Winter application rounds without registering. Use the search function to find listings by location, keyword, or area of interest/category. Once you identify one or more positions of interest, there is a 3-step application process.

Step 1: Click on the Apply for Job button, then select Universal Application. Click on Register to create a User Account, which requires a username and email. A link will be sent to you from manager@preservenet.org to create a password. We suggest that you add this email to your safe senders list so you don't miss receiving this important link. You will be instructed to Log In to Preservenet using your user name or email and password, which will take you back to the Universal Application.

Step 2: The Universal Application is required to apply for all NCPE internships. You fill out this form only once. In addition to contact information, educational status, work history, and experience, it requires two attachments: (1) the 2 most recent years of academic transcripts. These may be unofficial transcripts if official versions are unavailable. PDF only, labeled Your Last Name_Your First Name_Transcript. (2) a resume or CV (curriculum vitae). Please limit to a maximum of 4 pages; 2 pages preferred. May be .doc, .docx or PDF. Label Your Last Name_Your First Name_Resume. This form may be saved as a draft and completed later. Use the link provided to return to the form.

Step 3: Once you submit the Universal Application, you may browse and apply for NCPE internships using the link provided. Complete the application process by clicking on the Apply for job button found at each internship listing and upload the required Essay. Use the essay to explain why you are applying for an internship, including how your interest areas will benefit the National Park Service (NPS) and how the internship will further your studies and career goals. Be as specific as possible; there is a 400-word maximum length. Submit the essay to finish the application for that position. You may apply for a maximum of 6 internships during this application round. DO NOT SKIP THIS STEP!

Once the deadline for submission has passed, NPS supervisors will review the applications and may contact candidates for a phone interview. Candidates who are not selected will be notified. Please allow about 4 weeks after the deadline before inquiring about the status of your application.

Quick Tips on How to Apply

#1 If you feel you need to bolster your resume or expand your knowledge base in a certain area, consider offering research assistance to an authority at your university and/or design a 1-credit reading course with an eminent scholar or practitioner.

#2 "Experience" is more than paid work. It is any activity that gives you the knowledge and ability to do something well. So include in the Universal Application all relevant research projects, academic extracurricular activities, and volunteer interests to show your initiative, leadership, and competency.

#3 Proofread everything. The qualification most sought after for any job or internship is strong communication skills so start off on the right foot with no spelling or grammatical errors in your application.

Logging in with a Registered User Account and completing the Universal Application is required to apply for NCPE Internships. Please visit the Universal Application page to register for an account and complete the form. After logging in and completing the form, refreshing this listing will display the Job Application to apply online.