Internship
17 USD / Hour
Applications have closed
December 2, 2023
Job Summary: This role is vital in overseeing our 11 to Save program. This internship provides an extensive platform to refine skills in historic preservation, stakeholder management, communications and grant fund assistance.
Job Qualifications:

Position Requirements
• (Currently pursuing) bachelor's degree in Historic Preservation, Urban Planning, Public Policy, or a related field.
• Interest in historic preservation.
• Exceptional organizational skills and a keen attention to detail.
• Proficient communication abilities, both written and oral, for effective stakeholder engagement.
• Familiarity with Microsoft Office; experience in database management is beneficial.

The ideal candidate
• Is enthusiastic about historic preservation and the mission of the 11 to Save program.
• Is a proactive individual who can work autonomously and collaboratively with a team.
• Manages multiple tasks effectively, setting priorities as required.
• Exhibits a diplomatic communication style and excels at building positive relationships.

How to Apply:

To Apply
Please send your applications to Dafni Kirkpatrick at dkirkpatrick@floridatrust.org, including:
• Resume
• Cover letter explaining your interest and relevant experience
• Two references (applicants will be informed before references are contacted)

Contact Name: Dafni Kirkpatrick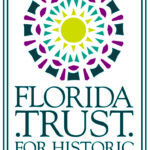 Website Florida Trust for Historic Preservation
The Florida Trust for Historic Preservation is a charitable nonprofit with a mission to promote the preservation and the inclusive sharing of the diverse architectural, historical and archaeological heritage of Florida.
Responsibilities
11 to Save Listings Tracking (50% of the time)
• Track and document all 11 to Save listings since the program's inception, ensuring records are updated and accurate.
• Report the status of each historic structure, identifying any potential risks or required assistance.
• Develop and maintain a systematic tracking method for ongoing reviews and updates of the listings.
• Assist in preparing periodic reports and presentations for the Board of Directors.
Communications & Stakeholder Management (35% of the time)
• Compile and maintain up-to-date contact information of nominators and property owners.
• Facilitate and foster positive relationships and communication with nominators and property owners regarding any updates, requirements, grand assistance, or other pertinent topics.
• Help with communication & marketing, including social media, press releases, and newsletters.
• Assist 11 to Save Ambassadors with administrative and outreach tasks.
11 to Save Grant Fund Assistance (15% of the time)
• Provide administrative assistance for the 11 to Save Grant Fund, including grant application reviews, feedback and project progress tracking.
• Contribute to communications and promotional efforts to raise awareness about the grant fund.