Full Time
Internship
580 USD / Week
Applications have closed
Department: Historic Preservation Trades
Job Reference #: PO-00734391
Job Summary: Are you looking for the opportunity to learn hands-on preservation skills while building your professional resume and serving in State and National Parks?
Job Qualifications:

Essential Functions and Position Requirements:

Ability to commute to specified locations in Boston daily
Ability to serve with others on a team
Interest in historic preservation and building skills in preservation maintenance; including carpentry, painting, masonry, window restoration, and other preservation maintenance tasks
Willing to complete some project paperwork including project reports, output logs, and tool inventory
Must be willing to learn how to use hand tools and power tools to complete projects
Ability to lift 50 lbs. & walk/hike 2 miles
Must be able to serve in diverse situations and various outdoor environments
Willingness to camp for 2 – 5 consecutive nights for some projects
All participants must commit to following all program and state mandated Covid-19 safety guidelines. This includes, but is not limited to, wearing a mask for all service and group activities, taking extra time to sanitize tools and equipment, and notifying supervisors when a member is not feeling well.

Marginal Functions and optional service activities:

Virtual service as make-up hours (including archives and gravestone transcribing, creating land acknowledgements, and project site research)
Trail clean up and park volunteer days

How to Apply:

Application Instructions:

1. Click the link on this page or use application Code: PO-00734391

2. Set up your Basic information

3. Complete the "Corps/Internship" section.

4. Complete the "Final" section and submit.

5. When filling out the essay questions and experience sections, be sure to include your interest and experience in history, historic preservation, and related fields. Don't worry too much about the natural resources or conservation related questions.

6. Complete reference requests for at least 2 professional references.

Job benefits: Health insurance available, childcare assistance, training, certifications, networking
Physical Demands / Work Environment: Physically demanding, trades-based projects
Contact Name: Janina Peppers
Application Phone #: 8047297033
Application Address: 180 Allen St Braintree, MA 02184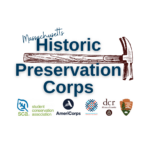 Website MA Historic Preservation Corps
The 2023 Historic Preservation Corps is a unique program based in Massachusetts that offers participants training and experience in several historic preservation and maintenance trades, including carpentry, window restoration, historic trail-side structure restoration, masonry, landscaping, painting, and more! Boston National Historical Park, Massachusetts Department of Conservation and Recreation, and the Student Conservation Association have partnered to create an unforgettable 10-month experience for young adults aged 18 – 30 (35 for veterans) in the Greater Boston area.
AmeriCorps Eligibility Requirements:
US Citizens, National, Lawful Permanent Residents, and persons legally residing in a state
Must be able to pass a national service criminal history check
Must be 18 years or older
Program Description:
The MA Historic Preservation Corps is a 10-month program from February 13 through December 8, 2023. The program's home base is in Braintree, MA, and project sites are scattered throughout the Greater Boston area and across the Commonwealth. Training and projects aim to address historic preservation and maintenance needs on Public Lands in Massachusetts. This position is primarily hands-on, and tasks are often labor-intensive. Before applying, applicants are encouraged to reflect the concept of Service. This is an AmeriCorps position – not a typical job – and requires a commitment to serving at public lands and historic sites and committing to a team and the community experience. Members of the Historic Preservation Corps should expect to meet regularly, reflect on their service, and contribute to the team-building process.
Project type breakdown:
Training – 15%
Carpentry – 20%
Window Restoration – 20%
Masonry – 20%
Backcountry – 5%
Painting/Maintenance – 10%
Other – 10%
Schedule:
Corps members serve Monday – Friday, typically 7:00 AM – 5:00 PM. The daily schedule can change depending on the project location. Members can expect to do 40-45 hours weekly with federal holidays off. This is a 1700-hour AmeriCorps position, and corps members must reach that target to complete the program. Members serve daily in small crews of four at the program's Shop, the Boston Harbor Islands, the Charlestown Navy Yard, or project sites in central or Western Massachusetts. Some projects will require camping, and members should expect to camp for at least two consecutive nights at some point during the program.
Covid-19
Member health and safety are a priority for this program. As long as Covid-19 is a threat, members are expected to do their part to keep their team safe; this includes being mindful of current regulations, regular cleaning and disinfection of tools and equipment, and regular health check-ins with staff.
Program Benefits
$1160 bi-weekly living allowance, before taxes
$6495 Segal Education Award at the end of the completed service term
$520 one-time travel/commuting stipend
SNAP eligibility is up to $250 per month, plus various discounts available to EBT cardholders
Health insurance and Childcare assistance are available
Professional Certifications including OSHA 10, Wilderness First Aid, Lead Safe Renovator
Preservation training in carpentry, masonry, landscaping, trailside structure restoration, and more!
The opportunity to serve in State and National Parks in Boston and throughout Massachusetts
Networking opportunities with preservation professionals, state parks, NPS, and nonprofits across Massachusetts.
Training Opportunities:
OSHA 10 – General Industry
Lead Safe Renovator
Wilderness First Aid & CPR
Foundations of Historic Preservation (theory and documentation)
Masonry & Repointing
Carpentry & Shop basics
Window Restoration
Leadership, resume building, and other professional development opportunities
Essential Functions and Position Requirements:
Ability to commute to specified locations in Boston daily
Ability to serve with others on a team
Interest in historic preservation and building skills in preservation maintenance; including carpentry, painting, masonry, window restoration, and other preservation maintenance tasks
Willing to complete some project paperwork, including project reports, output logs, and tool inventory
Must be willing to learn how to use hand tools and power tools to complete projects
Ability to lift 50 lbs. & walk/hike 2 miles
Must be able to serve in diverse situations and various outdoor environments
Willingness to camp for 2 – 5 consecutive nights for some projects
All participants must follow all program and state-mandated Covid-19 safety guidelines. This includes, but is not limited to, wearing a mask for all service and group activities, taking extra time to sanitize tools and equipment, and notifying supervisors when a member is not feeling well.
Marginal Functions and optional service activities:
Virtual service as make-up hours (including archives and gravestone transcribing, creating land acknowledgments, and project site research)
Trail clean up and park volunteer days
Potential candidates must fulfill the above requirements to be considered for this position. In addition, it is recommended that applicants have a strong interest in history, preservation, preservation trades, archaeology, museum studies, or related fields. Experience or education in any of these fields is not required to be considered!
Local Greater Boston residents are encouraged to apply. Current residency in Greater Boston is not required. National applicants are encouraged to research the cost of living in the Greater Boston area before joining the Corps. Staff and Program Partners will make every effort to create an inclusive and equitable program experience for all corps members; this includes support in finding resources for housing, food assistance, and commuting resources when available.
Upon request, reasonable accommodations will be provided to applicants during the selection process and to members during service. Email jpeppers@thesca.org if you need to make an accommodation request for the application process or interviews.
SCA strives to cultivate a work environment that encourages fairness, teamwork, and respect among all staff members. The organization and this program are firmly committed to maintaining a service atmosphere where people of diverse backgrounds and lifestyles may grow personally and professionally.
Please reach out to Nina at jpeppers@thesca.org if you have questions about the position or the application process!