Full Time
$67,500 to $72,500 (incudes monthly health care stipend) USD / Year
March 1, 2023
Job Summary: The ED is responsible for the organization's strategic and administrative functions while focusing on historic preservation advocacy, financial performance, community outreach, marketing and communications, grant writing, and program development.
Job Qualifications:

This position requires a commitment to work a flexible schedule, including nights and weekends as required.

Successful candidates will ideally possess most or all of these attributes:

Creativity, flexibility, and a passion for advancing the mission of MPA and the cause of historic preservation.
Bachelor's degree and 3-5 years of demonstrated success in fundraising and development, non-profit management, and historic preservation. An advanced degree or professional certification in historic preservation, planning, history, or other related field is preferred.
A strong working knowledge of historic architecture, historic preservation rehabilitation techniques, and/or preservation policies at the local, state, and national levels.
An appreciation for the Milwaukee region's unique architectural and cultural features.
Significant administrative and volunteer management experience in a nonprofit setting and experience working with a volunteer board.
Proven experience in nonprofit leadership, including public relations/communications, staff supervision, financial management, compliance requirements, development, grant writing, marketing, and advocacy.
An entrepreneurial spirit. The ED should be a self-starter who is imaginative, well-organized, and capable of functioning effectively in an independent environment.
Excellent written and oral communication skills. The ED is expected to regularly communicate on behalf of the organization through written statements, newsletters, social media, and speaking at meetings and events.
Strong interpersonal skills.  The ED should be comfortable in many different social and professional circles including with public officials, funders, attorneys, architects, government employees, etc.
Strong organizational skills and attention to detail with the ability to balance, prioritize, and manage multiple projects and deadlines.
Proven track record in building and maintaining collaborative relationships with partners, donors, foundations, grantors, diverse constituencies, and stakeholders.
Strong software and database management skills. The ED will regularly use Word, Excel, PowerPoint, QuickBooks, Mailchimp, Weebly, and Google Drive.
Experience in event planning and execution.
High degree of personal and professional integrity.
Competency in Spanish–beneficial but not required.

How to Apply:

Interested candidates should email a cover letter, resume, writing sample (1-2 pages), and two letters of reference to pzanghi@milwaukeepreservation.org. Your cover letter should describe why you are excited by this position and how your existing skills and experience would benefit MPA. Interviews will be scheduled on an as-needed basis for qualified applicants and will be held at the MPA office in Milwaukee, another convenient Milwaukee area location, or over Zoom.

Not sure if you qualify for the position? Research shows that men apply for jobs when they meet an average of 60% of the criteria, yet women and other people who are systematically marginalized tend to only apply if they meet every listed requirement. MPA will work with committed and motivated individuals to grow into the position if many but not all requirements are met. If you believe that your perspective, approach, and experience would enable you to succeed as the ED, we encourage you to apply.

Job benefits: health insurance stipend, paid time off, parental leave
Physical Demands / Work Environment: Work takes place primarily in an office shared with one part time staff. Office is in a coworking environment with shared amenities, including a cafe, conference rooms, and event space, which is shared with other arts and culture organizations.
Contact Name: Peter Zanghi
Application Address: Milwaukee Preservation Alliance 1100 S. 5th Street, Suite 319 Milwaukee, WI 53204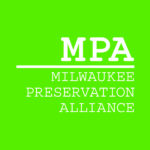 Website Milwaukee Preservation Alliance
Founded in 2003, MPA is a growing and dynamic private, non-profit, member-based organization whose mission is devoted to promoting stewardship and awareness of the historic, cultural, and economic value of Milwaukee's built heritage. MPA aims to strengthen Milwaukee's neighborhoods by advocating for preservation in order to foster a strong and vibrant community. MPA's vision is to "make preservation mainstream" by demonstrating to residents, business proprietors, and building owners the link between historic preservation and viable economic development, environmental sustainability, and social justice. MPA supports a broad understanding of historic preservation that incorporates much more than buildings and includes intangible and cultural heritage, landscapes, and sense of place. We seek to be a vibrant and people-centric preservation organization for the 21st century and beyond, welcoming diverse audiences and perspectives, embracing partnerships, and providing thought leadership.
Preservation Advocacy (30%):
Formulate positions on preservation issues of importance to the diverse communities of Milwaukee and the surrounding area in collaboration with community organizations. Utilize MPA's advocacy criteria to evaluate and respond to preservation issues.
Serve as a strong advocate for local, state, and/or national preservation efforts and legislation.
Respond to inquiries for information and assistance and specific inquiries about preservation issues citywide, coordinating a response closely with the Wisconsin State Historic Preservation Office (SHPO), Milwaukee Historic Preservation Commission (HPC), neighborhood groups, elected officials, and other interested parties as necessary.
Connect stakeholders with the resources they need to succeed, including funding, professional expertise, studies, and talking points.
Manage ongoing multi-year advocacy campaigns related to the Milwaukee Soldiers Home and Mitchell Park Domes and future projects.
Attend and testify at public meetings and hearings that pertain to preservation projects.
Ensure that preservation is a part of the conversation in public discussions surrounding the future of Milwaukee's built environment.
Develop and implement new ways to acquaint property owners, elected officials, and community members with the benefits of historic preservation.
Develop and implement procedures and strategies for proactive, rather than reactive, preservation.
Fundraising, Funding Development, and Fiscal Oversight (20%):
Develop an annual operating budget and present it to the Board for review and approval before beginning each fiscal year. Ensure that organizational expenses remain within the approved budget throughout the year.
Oversee accurate internal record keeping and timely preparation of monthly financial statements, as well as an annual audit or review by an outside CPA firm. Ensure sound budgetary and financial management.
Continue developing a comprehensive fundraising plan that supports the current and long-term goals of the organization and ensure appropriate internal systems are in place to help the organization.
Identify, cultivate, solicit, and maintain existing relationships with individuals, foundations, and corporate donors to meet fundraising goals.
Prioritize the growth of significant gifts through individuals, corporations, and foundations by building a ladder of giving to move donors from initial gifts to major gifts.
Manage and grow MPA's corporate sponsorship program.
Create an appropriate strategy for developing and growing an MPA-planned giving program.
Develop and lead MPA's Annual Appeal. The Annual Appeal is one of MPA's primary fundraising efforts and takes place each December.
Develop and implement new fundraising strategies in cooperation with the Board's Development Committee, including, but not limited to: expanding membership programs; annual, major, and planned giving; foundation and corporate giving; sponsorships; and programs/special events.
Work with the Board of Directors, partners, and real estate developers to implement a successful Historic Tax Credit partnership program. Foster and develop positive working relationships with property owners, developers, construction professionals, and preservationists to increase program participation.
Secure grants to support programs and operations and track and follow up as required.
Donor and Stakeholder Engagement (10%):
Develop new ways for MPA to gain relevance in the community and engage new audiences.
Engage historically underrepresented communities.
Engage with donors and stakeholders at MPA events and programs and through surveys and other opportunities to assess their satisfaction, identify improvements, and implement modifications.
Oversee communications with donors. Working with staff includes engagement and stewardship of donors and acknowledgment/recognition for donations received.
Develop effective working relationships with elected and appointed government officials at the local, state, and federal levels.
Engage and partner with local, state, and national organizations that can provide knowledge and resources that contribute to MPA's mission.
Communications and Outreach (10%):
Serve as an articulate and effective spokesperson for the organization and as the lead public advocate for preserving Milwaukee's historic built environment, landscapes, and places.
Represent MPA in various public settings, including industry associations and conferences, public relations, fundraising, governmental affairs, and the media.
Keep members and the community engaged and informed of MPA's activities by preparing timely communications via email, website, and social media.
Assist the Board of Directors in recruiting and managing MPA volunteers to serve as the committee, board members, and in other capacities. Ensure that policies and procedures are in place to maximize volunteer involvement and engagement.
Increase awareness of MPA's work, how preservation is developing as a field, and how preservation can benefit communities through public presentations, workshops and conferences, and engagement in planning conversations.
Give interviews with reporters on advocacy projects and preservation topics when necessary.
Programming and Education Management (10%):
In collaboration with staff and the Board of Directors, develop and manage events that celebrate Milwaukee's unique sense of place, provide technical education, and engage diverse audiences in the history of Milwaukee and the value of preservation.
With staff and volunteers, manage regular public walking tours of the Milwaukee Soldiers Home.
Develop measures to evaluate operational and program efficiency and effectiveness and to support an ethic of continuous quality improvement.
Leadership (5%):
Provide strong management, vision, and collaborative leadership to support the organization's mission, values, and goals.
Work with the Board of Directors on strategy, governance, and fundraising matters. Provide administrative support to the Board and its committees.
Provide leadership in developing and initiating creative programs and organizational plans with the Board of Directors.
Work, at all times, to carry out the fiduciary responsibilities of MPA and ensure compliance with all applicable rules, policies, procedures, laws, and regulations. This includes annual reporting to the State of Wisconsin and the Internal Revenue Service.
Board of Director Relations (5%):
Attend monthly Board and committee meetings.
Engage with the Board in developing long-term strategic plans, fund development plans, organizational plans, and financial sustainability efforts.
Apprise the Board of significant efforts/activities of the organization through regular communication and reports, including weekly written reports disseminated electronically and verbal updates.
Staff Management (5%):
Effectively oversee part-time administrative staff and collaborate on successfully implementing organizational goals. The ED is expected to work closely with administrative staff to manage the organization's day-to-day operations.
Create an environment built on integrity, teamwork, and respect.
Give clear direction and feedback through regular communication and periodic evaluation.
General Office Duties (5%):
Evaluate and provide for the organization's infrastructure requirements, including practical and appropriate information technology (hardware, software, and storage), data security, and redundancy.
Maintained accurate and organized files of all activities.
NCPE Internships: Eligibility & How to Apply

Benefits

All NCPE interns received an hourly stipend, the rate is listed at each position description. Additionally, interns receive paid time off (PTO), paid Federal holidays if working full-time, and access to NCPE's Employee Assistance Program (EAP) for career and personal counseling, coaching, and referrals. Project sites may also offer a housing allowance and/or commuting stipend; this information is also listed in the description or offered during the interview.

As an organization operating under Public Land Corps Act (PLC) authority, many NCPE positions qualify the intern for Federal Hiring Preference if (1) they complete a minimum of 640 hours at one or more qualifying conservation project(s); (2) are between the ages of 16 and 30 years (35 if a veteran); and (3) apply for a Federal position at USAJOBS with PLC noted in the announcement within two years of completing the internship. Find out more about this hiring preference during the interview or contact manager@preservenet.org for details.

Eligibility

To be eligible, applicants must be currently enrolled in a degree-seeking academic program or recently graduated (within the past 12 months) and be a U.S. Citizen or permanent resident. Interns are not eligible to work more than 1200 hours total in the program; previous interns must stay within this overall limit. The length of an internship can vary from 10 to 30 weeks if full time (40 hours per week) or longer if on a part-time schedule. If selected, the exact starting date will be determined by you and the NPS supervisor. The stipend rate is $17.00 per hour unless otherwise listed.

The successful candidate is responsible for finding and paying for travel to and housing at the internship location; some exceptions apply. The supervising office may be able to assist in locating housing but it is ultimately up to the individual accepting the internship to find accommodation.

The National Council requires all interns working in-person at Federal facilities and/or with Federal employees receive the Covid-19 vaccination. Please be advised that you may also be required to wear a mask, depending on the protocols adopted by your work site. Also be aware that, due to Government-wide security requirements, a background check will be required if you are selected for a position. This will include providing information about recent housing and employment history. The position supervisor will have more information about these requirements and procedures at the time of hiring. You may direct any questions to NCPE's Internship Program Director, Julee Johnson, at manager@preservenet.org.

Please note that interns are not NCPE or NPS employees. Stipends are academic awards and taxes are not withheld, nor are social security contributions made on your behalf. These funds may be taxable, however, so consult a tax preparation professional if you have questions.

How to Apply

You may review NCPE's internship opportunities during the Summer and Winter application rounds without registering. Use the search function to find listings by location, keyword, or area of interest/category. Once you identify one or more positions of interest, there is a 3-step application process.

Step 1: Click on the Apply for Job button, then select Universal Application. Click on Register to create a User Account, which requires a username and email. A link will be sent to you from manager@preservenet.org to create a password. We suggest that you add this email to your safe senders list so you don't miss receiving this important link. You will be instructed to Log In to Preservenet using your user name or email and password, which will take you back to the Universal Application.

Step 2: The Universal Application is required to apply for all NCPE internships. You fill out this form only once. In addition to contact information, educational status, work history, and experience, it requires two attachments: (1) the 2 most recent years of academic transcripts. These may be unofficial transcripts if official versions are unavailable. PDF only, labeled Your Last Name_Your First Name_Transcript. (2) a resume or CV (curriculum vitae). Please limit to a maximum of 4 pages; 2 pages preferred. May be .doc, .docx or PDF. Label Your Last Name_Your First Name_Resume. This form may be saved as a draft and completed later. Use the link provided to return to the form.

Step 3: Once you submit the Universal Application, you may browse and apply for NCPE internships using the link provided. Complete the application process by clicking on the Apply for job button found at each internship listing and upload the required Essay. Use the essay to explain why you are applying for an internship, including how your interest areas will benefit the National Park Service (NPS) and how the internship will further your studies and career goals. Be as specific as possible; there is a 400-word maximum length. Submit the essay to finish the application for that position. You may apply for a maximum of 6 internships during this application round. DO NOT SKIP THIS STEP!

Once the deadline for submission has passed, NPS supervisors will review the applications and may contact candidates for a phone interview. Candidates who are not selected will be notified. Please allow about 4 weeks after the deadline before inquiring about the status of your application.

Quick Tips on How to Apply

#1 If you feel you need to bolster your resume or expand your knowledge base in a certain area, consider offering research assistance to an authority at your university and/or design a 1-credit reading course with an eminent scholar or practitioner.

#2 "Experience" is more than paid work. It is any activity that gives you the knowledge and ability to do something well. So include in the Universal Application all relevant research projects, academic extracurricular activities, and volunteer interests to show your initiative, leadership, and competency.

#3 Proofread everything. The qualification most sought after for any job or internship is strong communication skills so start off on the right foot with no spelling or grammatical errors in your application.

Logging in with a Registered User Account and completing the Universal Application is required to apply for NCPE Internships. Please visit the Universal Application page to register for an account and complete the form. After logging in and completing the form, refreshing this listing will display the Job Application to apply online.