Full Time
$110,000-$135,000 USD / Year
October 1, 2023
Job Qualifications:

The Preservation Massachusetts (PM) Board of Directors seeks a dynamic, experienced, and visionary leader to serve as the organization's next executive director.

The successful candidate will work with the Board of Directors and staff to advance PM's mission of preservation education and advocacy, and to strengthen statewide and regional partnerships. This work will include collaborating with the Board on a strategic plan, strengthening the membership base, increasing financial support, and advancing the organization's programmatic priorities. The next executive director will be a vigorous and compelling champion for PM, setting a strategic path forward and advocating on behalf of the organization, continuing to raise its profile in the preservation community.

PM is a private, statewide, non-profit historic preservation education and advocacy organization dedicated to preserving the Commonwealth's historic and cultural heritage. We work with individuals, organizations, municipalities, and businesses striving to revitalize their communities, historic buildings, and landscapes through historic preservation. These efforts make a real economic impact across Massachusetts, creating jobs and investing in our historic and cultural resources to enhance our collective quality of life.

PM is committed to hiring an experienced non-profit professional with the ability to lead, unite, and inspire.

Qualifications

The successful candidate will serve as the public face of PM and must possess:

Deep knowledge of historic preservation and non-profit administration. A sustained commitment to PM's dual mission of education and advocacy, and enthusiasm for its role in the world of historic preservation.
Record of successfully leading and managing a broad-ranged cultural institution, including setting organizational goals, assessing and managing program effectiveness, overseeing financial operations, and managing board dynamics and staff responsibilities.
Ability to develop a unified vision for the organization that is compelling, streamlined, and sustainable.
Proven fundraising experience. Knowledge of annual and planned giving, membership, and capital campaigns. Professional networks and relationships that could potentially expand PM's outreach efforts.
Ability to work with a wide range of constituents, from individual homeowners to volunteers, business associates, elected officials, legislators, and agency representatives.
Excellent oral and written communication and presentation skills. Proven ability to inspire, motivate, effectively collaborate with, and develop staff, Board members, and a dedicated community of supporters.
Professional decorum with a collaborative spirit for working with a variety of partners in Massachusetts and beyond.
Proven operational and administrative leadership skills, including excellent decision-making, organizational, communication, and mentoring abilities.
Ability to assess staffing needs and hire professionals with necessary skills to complement existing team.
Personal integrity, resilience, and ingenuity. Demonstrated awareness and understanding of diversity, with an inclusive approach to connecting with diverse populations of constituents, supporters, and staff.
Ability and willingness to travel within Massachusetts and beyond as necessary. Must have own transportation.
An advanced degree in historic preservation or related field is preferred.

How to Apply:

Confidential applications (resumes with cover letters) and referrals should be sent to the search committee at: search@preservationmass.org by October 1, 2023.

Questions may also be directed to Board Chair Mary Thompson (mary.a.thompson@bofa.com) or Board member James McDermott (james.mcdermott@hklaw.com).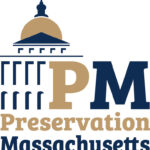 Website Preservation Massachusetts, Inc.
Established in 1985, Preservation Massachusetts (PM) is a statewide historic preservation education and advocacy organization. We actively promote the preservation of historic buildings and landscapes as a positive force for economic development and the retention of community character. In keeping with our mission, we work in partnership with national, state, and local organizations and with individuals across the Commonwealth to advance an understanding, appreciation, and utilization of our historic built and natural landscapes.
Role of the Executive Director
PM's executive director serves as the organization's primary advocate, spokesperson, and agent. Internally, they hire and oversee staff, allocate resources, manage the operational budget, establish programmatic priorities, and maintain strategic direction set by the Board. Externally, they lead legislative advocacy initiatives, fundraising efforts with substantial support from Board members, partnership development, and cultivation of PM's public identity. The executive director should maintain an atmosphere of respect, inclusion, equity, and collaboration.
Staff, Board, and Governance
PM is governed by a 21-member volunteer Board of Directors. Board members serve at will, with no defined term limit. The Board works with the executive director to formulate and approve the organization's annual budget and all major policies. In addition, PM maintains a core staff of part-time professionals: the Director Emeritus; two circuit riders; an event planner; and an administrative coordinator. PM also has strategic contractual arrangements with an accountant, bookkeeper, and pro-bono legal counsel.
Finances
PM seeks to explore creative, sustainable ways to increase revenue. Currently, the majority of fundraising hinges on the success of PM's annual awards event. Income from the organization's annual year-end appeal and membership dues have remained steady. Efforts to cultivate planned giving and major gifts are in the very early stages, and there is support among Board members to broaden PM's fundraising and development effort to include more long-term and consistent benefits for donors.
Commitment to Equity, Diversity, and Inclusion
PM maintains an unwavering commitment to diversity with the goal of each employee having a full sense of belonging within the organization. PM does not discriminate on the basis of race, color, religious creed, sex, age, national origin, ancestry, marital status, sexual orientation, gender identity or expression, disability (including, but not limited to, intellectual disability, past or present history of mental disorder, physical disability, or learning disability), genetic information, veteran status, or any other basis prohibited by Massachusetts and/or federal nondiscrimination laws.
NCPE Internships: Eligibility & How to Apply

Benefits

All NCPE interns received an hourly stipend, the rate is listed at each position description. Additionally, interns receive paid time off (PTO), paid Federal holidays if working full-time, and access to NCPE's Employee Assistance Program (EAP) for career and personal counseling, coaching, and referrals. Project sites may also offer a housing allowance and/or commuting stipend; this information is also listed in the description or offered during the interview.

As an organization operating under Public Land Corps Act (PLC) authority, many NCPE positions qualify the intern for Federal Hiring Preference if (1) they complete a minimum of 640 hours at one or more qualifying conservation project(s); (2) are between the ages of 16 and 30 years (35 if a veteran); and (3) apply for a Federal position at USAJOBS with PLC noted in the announcement within two years of completing the internship. Find out more about this hiring preference during the interview or contact manager@preservenet.org for details.

Eligibility

To be eligible, applicants must be currently enrolled in a degree-seeking academic program or recently graduated (within the past 12 months) and be a U.S. Citizen or permanent resident. Interns are not eligible to work more than 1200 hours total in the program; previous interns must stay within this overall limit. The length of an internship can vary from 10 to 30 weeks if full time (40 hours per week) or longer if on a part-time schedule. If selected, the exact starting date will be determined by you and the NPS supervisor. The stipend rate is $17.00 per hour unless otherwise listed.

The successful candidate is responsible for finding and paying for travel to and housing at the internship location; some exceptions apply. The supervising office may be able to assist in locating housing but it is ultimately up to the individual accepting the internship to find accommodation.

The National Council requires all interns working in-person at Federal facilities and/or with Federal employees receive the Covid-19 vaccination. Please be advised that you may also be required to wear a mask, depending on the protocols adopted by your work site. Also be aware that, due to Government-wide security requirements, a background check will be required if you are selected for a position. This will include providing information about recent housing and employment history. The position supervisor will have more information about these requirements and procedures at the time of hiring. You may direct any questions to NCPE's Internship Program Director, Julee Johnson, at manager@preservenet.org.

Please note that interns are not NCPE or NPS employees. Stipends are academic awards and taxes are not withheld, nor are social security contributions made on your behalf. These funds may be taxable, however, so consult a tax preparation professional if you have questions.

How to Apply

You may review NCPE's internship opportunities during the Summer and Winter application rounds without registering. Use the search function to find listings by location, keyword, or area of interest/category. Once you identify one or more positions of interest, there is a 3-step application process.

Step 1: Click on the Apply for Job button, then select Universal Application. Click on Register to create a User Account, which requires a username and email. A link will be sent to you from manager@preservenet.org to create a password. We suggest that you add this email to your safe senders list so you don't miss receiving this important link. You will be instructed to Log In to Preservenet using your user name or email and password, which will take you back to the Universal Application.

Step 2: The Universal Application is required to apply for all NCPE internships. You fill out this form only once. In addition to contact information, educational status, work history, and experience, it requires two attachments: (1) the 2 most recent years of academic transcripts. These may be unofficial transcripts if official versions are unavailable. PDF only, labeled Your Last Name_Your First Name_Transcript. (2) a resume or CV (curriculum vitae). Please limit to a maximum of 4 pages; 2 pages preferred. May be .doc, .docx or PDF. Label Your Last Name_Your First Name_Resume. This form may be saved as a draft and completed later. Use the link provided to return to the form.

Step 3: Once you submit the Universal Application, you may browse and apply for NCPE internships using the link provided. Complete the application process by clicking on the Apply for job button found at each internship listing and upload the required Essay. Use the essay to explain why you are applying for an internship, including how your interest areas will benefit the National Park Service (NPS) and how the internship will further your studies and career goals. Be as specific as possible; there is a 400-word maximum length. Submit the essay to finish the application for that position. You may apply for a maximum of 6 internships during this application round. DO NOT SKIP THIS STEP!

Once the deadline for submission has passed, NPS supervisors will review the applications and may contact candidates for a phone interview. Candidates who are not selected will be notified. Please allow about 4 weeks after the deadline before inquiring about the status of your application.

Quick Tips on How to Apply

#1 If you feel you need to bolster your resume or expand your knowledge base in a certain area, consider offering research assistance to an authority at your university and/or design a 1-credit reading course with an eminent scholar or practitioner.

#2 "Experience" is more than paid work. It is any activity that gives you the knowledge and ability to do something well. So include in the Universal Application all relevant research projects, academic extracurricular activities, and volunteer interests to show your initiative, leadership, and competency.

#3 Proofread everything. The qualification most sought after for any job or internship is strong communication skills so start off on the right foot with no spelling or grammatical errors in your application.

Logging in with a Registered User Account and completing the Universal Application is required to apply for NCPE Internships. Please visit the Universal Application page to register for an account and complete the form. After logging in and completing the form, refreshing this listing will display the Job Application to apply online.